By
Kirsteen Mackay
|
Last Updated :
September 15, 2020
|
Filed In :
Garden Style Ideas
When I was flat-hunting, one of my non-negotiables was having a little bit of outdoor space. I didn't mind whether it was a roof terrace, a ground-floor courtyard, or a balcony – as long as there was somewhere I could hang my washing and occasionally sit in the sun.
As much as I love my little slice of the outdoors (and was especially grateful for it during lockdown), one of my early frustrations was coming up with ways to make it more stylish, cosy and practical – especially without spending too much money.
Not having to mow a lawn is great, but it's sometimes tricky to think outside the box when it feels like you're living in one!
Balcony Garden Ideas
Here's a list of my favourite balcony garden ideas, and some answers to the burning questions about how to spruce up a teeny-tiny outdoor space. Let me know at the end if you think I missed any!
Ideas for Balcony Plants
Honestly, if I'd only have asked this sooner, I could have prevented the demise of so many plants and flowers! Fortunately, it's perfectly possible to exercise your green thumb in a limited floor space.
The most important tip: work out whether your outdoor space is a shady, sheltered spot or a scorching little sun-trap. Once you've figured that out, you'll be surprised at the number of options you have to incorporate plants and flowers into your balcony garden ideas.
1. Base plants for balconies and courtyards
For low maintenance foliage, start with potted shrubs and grasses.
The fine, yellow-green blades of stipa tenuissima (Mexican feathergrass) love the sunshine and will make you feel like you're sat in a lush field every time the breeze blows.
Cordyline is more dramatic, with spiky maroon leaves that suit an edgy, modern aesthetic. They like sunny or partly-shaded spots and moist, well-drained soil, although you'll need to bring them inside to avoid winter frost.
As for shrubs, the fuzzy, evergreen leaves of brachyglottis can tolerate dryness and salty air better than most plants – perfect for balcony gardens with a view of the beach.
2. Herb gardens
In a modest space, herbs really are the perfect plants. They don't need a lot of room – just a bit of soil, some bright, indirect sunlight and regular watering.
Most herbs are perfectly happy in a planter along a windowsill, or in individual pots hanging from a trellis.
You Might Also Like: 8 Effortless Herb Planter Box Ideas
A small herb garden on your balcony will provide some lush greenery, a pleasant fragrance and an eternal supply of delicious additions for your cooking.
Thyme, rosemary, chives and sage love the sunshine, while shadier balconies are a great home for mint, dill, coriander and parsley. If you're up for some DIY you can even build a herb planter box with our guide.
3. Cacti and succulents
Can you grow succulents outside in the UK? Absolutely!
They're actually the perfect balcony plant. Sedums and sempervivums are especially hardy, and pachyphytm, aeonium and echeveria can also thrive in British weather.
Make sure they're in pots with plenty of drainage, and are positioned in the sunniest, warmest spot you can find. Then all they need is occasional watering (make sure the soil has dried out first), and to be brought in as winter approaches.
4. Flowers for a balcony garden
Can't live without a burst of colour? We've got flower ideas for every balcony.
First, check which temperature zone you live in, and work out how shady or sunny your balcony is throughout the warmest months.
In the UK, the best flowers for a shady balcony are typically:
impatiens
pansies
begonias
All of which bloom in dazzling colours, as long as they're not exposed to too much heat. Take a look at more plants for shady spots.
If you're lucky to get hours of sunshine from your balcony, look for marigolds, geraniums and chrysanthemums. These beautiful flowers thrive with lots of warmth and light – perfect for overflowing balcony baskets.
5. Growing fruit and vegetables on a balcony
You might be surprised by the variety of food that you can grow on a balcony. Strawberries are by far the best fruits to grow in a small amount of space, as they're quite happy in a small to medium-sized container with frequent watering and a good amount of sunlight.
Tomatoes are incredibly versatile, and can thrive in window boxes, hanging baskets, pots and grow-bags as long as they get plenty of warmth and light.
Chillies are another popular choice and, with a bit of pruning in winter, will continue to produce year after year. Other vegetables that can grow in balcony gardens: spring onions, runner beans and lettuce.
We've got a whole article about kitchen garden ideas and how to grow vegetables in hanging baskets, with more tips and suggestions if you're interested in growing your own food.
Balcony Garden Ideas for Arranging Plants
6. Pots and planters
When creating an urban jungle, pots and planters are a balcony garden's best friend. Choose matching pots for a streamlined look, or mix up the sizes and textures for an eclectic feel. Enjoy the freedom of rearranging your plants as you feel like it, and being able to easily bring fragile flowers inside to protect them over winter. Read more container gardening ideas.
7. Flower boxes for railings
There's a huge assortment of buckets, boxes and baskets that are specifically designed to hook or hold onto your balcony railings. Hang them on the inside to feel surrounded by foliage, or over the outside to give yourself more space without giving up the greenery.
8. Vertical gardens
Tiny balconies can still house plenty of greenery by embracing vertical gardens. Try hanging small pots from a trellis, or repurposing a shoe organiser for herbs or succulents. Tall (but narrow) shelving is another way to add a vertical dimension to your balcony garden, while saving on square footage.
Look out for wall tiles made from living flora, like moss or grasses – or, if you're not blessed with a green thumb, find artificial versions.
9. Hanging baskets
Ready for some DIY? Installing brackets to your exterior lets you hang dramatic baskets of cascading flowers. If your balcony is covered, you could even hang pots and planters straight from the ceiling.
Balcony Space Saving Furniture Ideas
10. Folding furniture
Bistro style furniture looks great in any balcony garden, but is particularly effective for smaller spaces.
Slimline designs in weather-resistant materials are both attractive and practical, and being able to quickly fold it away lets you make more of your balcony or terrace when you're not dining al fresco.
If you prefer a more modern aesthetic, look for dining sets that stack close together or tuck flush beneath the table.
11. Outdoor furniture
If you're looking for balcony furniture that can stay outside, at least make sure it's working as hard as possible.
Multi-functional pieces like ottomans that can be tables or stools are a fantastic idea, as are benches or seats with hidden internal storage.
12. Hanging chairs
Installing a garden swing seat is a great way to make use of the vertical room as, technically, they don't actually take up floor space.
Adding a statement chair gives you somewhere comfortable to hang out (get it?) and adds some personality into the mix.
Balcony Garden Ideas: Adding Personality with Outdoor Decor
Feeling creatively cramped by a small space? Well, while we're on the topic of personality, there are heaps of ways you can add unique style to even the cosiest balcony, and transform it into your favourite room in your home.
13. Add colour
Give your exterior walls a fresh lick of paint and feel like you're sitting in a whole new space. Add some colour to your floor, too – outdoor rugs are a great way to build pattern and texture, but make sure they're secured down in windy weather! You can also buy wooden deck tiles to make your outdoor space feel more rustic, or even buy a roll of artificial grass if you're longing for a "proper" garden.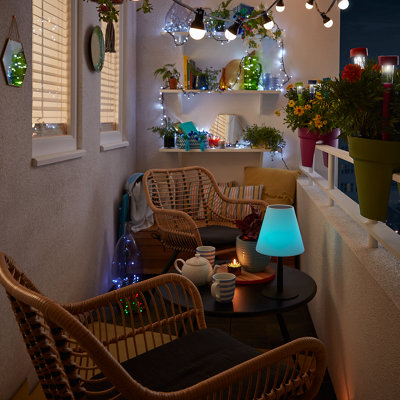 14. Quirky lighting
Garden lights ensure you can enjoy your balcony well into the evening.
Hang a festoon across the top, weave fairy lights through a trellis, put a statement lantern on your table or tuck stake lights into your potted plants… or a combination of all of those!
Solar-powered lights are virtually hassle-free for balconies, just check that any lights you use are rated for outdoor use.
Creating Privacy on a Balcony
It can be tricky to feel like your balcony is a private space, especially if you overlook the street or are surrounded by other blocks of flats. Creating complete privacy might be a challenge, but here are some ideas to minimise the feeling of being watched.
15. Balcony screens
Does your balcony have railings, rather than a solid wall? Start by investing in a privacy screen.
You can buy purpose-made screens to suit every aesthetic, or employ a little creativity. Consider canvas, bamboo matting, turf, rattan or wood panels.
16. Awnings
With an adjustable awning, you can choose to open up your balcony to the sunshine or pull it down for some shade and shelter.
Awnings are also great for lower-ground floor courtyards that attract attention from people walking along the street above.
17. Green curtains
Green curtains are a growing trend, although they take a little more time to cultivate.
To create your own, you will need to plant seeds for lightweight climbers – like morning glory – into long, rectangular containers.
These should go at the bottom of some kind of structure – a trellis is ideal (or pergola if you're on the ground floor), but even string or twine will work. As the plant grows, encourage it to wind upwards and you'll have a green curtain in no time.
International Balcony Garden Designs
Cultural capitals around the world have their own take on balcony garden style. Take some ideas from these stunning designs and you'll feel like you're instantly on holiday every time you step outside.
18. Inspiration from European balcony gardens
In destinations like Paris, Barcelona and Rome, a beautiful balcony should be overflowing with flowers. As well as buckets of the geraniums, pansies and marigolds we mentioned earlier, look out for climbers and trailing flowers to add to your collection.
Verbena, jasmine and morning glory can be wound over your railings or up a trellis for maximum height and depth of your floral display.
Aim for window boxes, railing baskets and pot stands to make the most of every inch – just don't forget to stay within the weight limit for your balcony.
Choose pretty plastic or aluminium containers instead of chunky ceramic and terracotta, and look for soil and compost that's blended to be lightweight. Give yourself some cover with a retractable awning, squeeze a bistro table underneath, and you're good to go.
19. Japanese balcony garden ideas
Traditional Japanese gardens are famously designed with precision and consideration for their surroundings, but did you know this culture extends to balcony gardens too?
In highly-populated areas of Tokyo, balconies are intended as a place of tranquil simplicity. We've already looked at creating privacy with green curtains and bamboo mats, but what else appears in a Japanese balcony garden?
Symbolism plays a key role in the elements of Japanese garden design. Stones represent stability, and should share similar shapes and textures. Water symbolises life, and might be present in the literal form of a miniature water garden or small fountain, or figuratively represented by a path of brightly coloured gravel.
Plants should include evergreens (for longevity) and shrubs, with minimal flowers. The climate in Tokyo is very different to the UK, but common plants include chrysanthemum, wisteria, hydrangea, magnolia and pine.
20. How to create a New York style balcony
As you might expect, the rules of creating an appealing balcony in New York are about visual complexity and chic style choices.
Start with a piece of statement seating, then surround it with clean, minimalist pots of various sizes. A monochromatic colour scheme helps to keep the look cohesive, contrasted by pops of green from your plants.
Herb gardens are increasingly popular for their functionality, and boxes of living bamboo are often chosen for an eco-friendly privacy screen or for hiding unattractive surroundings.
Keeping your Balcony Garden Clean
Even the smallest outdoor space is prone to dirt and clutter, so your balcony deserves a place on your regular cleaning schedule.
Keep walls, floors, windows, surfaces and seating looking fresh and you'll be glad to always have a pleasant place to sit outside. Shelves and storage boxes are excellent for keeping clutter tidy.
Eventually, I found some inspiration and added some budget-friendly balcony upgrades. We laid new flooring, added solar lighting and bought some space-saving fold-up furniture. It's not much, but I'm happy (for now!)
And there you have it – all the answers to turning a balcony garden into an urban oasis. If you have any balcony upgrades that you're particularly proud of, let us know in the comments!